Common Diabetic Conditions & Treatment
Tulsa Diabetic Foot Treatment Specialists
People with diabetes are prone to foot problems that develop due to prolonged periods of high blood sugar levels. This can cause nerve damage and poor circulation, leading to nonhealing wounds that are at risk of amputation. Many diabetic foot conditions can be prevented by blood sugar control, though close monitoring from a specialist is recommended as a regular part of their care plan. Any person with diabetes who experience symptoms of infection in the feet should seek emergency treatment.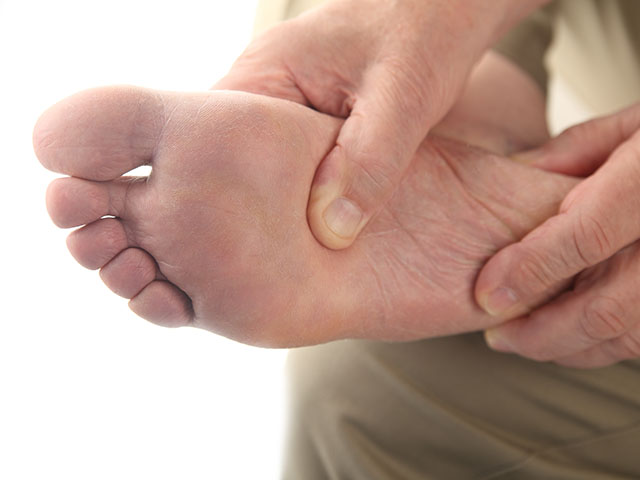 We understand that foot pain can be debilitating and cause unnecessary problems.
GET RELIEF TODAY
Get Relief from Diabetic Conditions
You're trying to get a good night's sleep, but foot pain is keeping you awake. Or maybe you are [read more]
Dr. Mason is board certified in foot surgery as well as reconstructive rearfoot and ankle surgery. He is a [read more]
Nerve damage is generally spoken of as a complication of diabetes but can also result from an injury. When [read more]
Ulcers
What are ulcers?
Ulcers are open sores on the skin that occur when the outer layers of the skin are injured, exposing the deeper tissue. These wounds can be caused by pressure from ill-fitting shoes, long periods in bed or after an injury that breaks the skin. These wounds can put patients at increased risk of developing infection in the skin and bone. Symptoms of ulcers include:
Drainage
Oder
Red, inflamed and thickened tissue
Pain
How are ulcers treated?
Ulcers are treated by removing the unhealthy tissue and using wound care to help the healing process. Our surgical specialists may suggest the use of special shoes or padding to help remove excess pressure on the area. Should your skin be (or become) infected, antibiotics may be given. In rare cases that involve an extensive infection, surgery or other advanced wound care treatment may be necessary.
Diabetic Foot Checks
What are diabetic foot checks?
Diabetes is a dangerous condition for your feet, as a small cut on the foot can lead to big consequences. It is known for causing nerve damage that can take away all feeling in your feet. Due to this issue, blood flow to the feet is reduced, making it harder to heal an injury or resist infection. These issues can lead to a nonhealing wound that is at great risk for amputation. In order to avoid these risks, our specialists suggest:
Inspecting your feet daily
Bathing your feet in lukewarm, never hot, water
Be gentle when bathing your feet, patting carefully.
Moisturize your feet, but not between your toes
Cut nails carefully
Never treat corns or calluses yourself
Wear clean, dry socks
Consider socks made specifically for patients with diabetes
Wear socks to bed
Shake out your shoes and feel the inside before slipping them on.
Keep your feet warm and dry.
Consider using an antiperspirant on the soles of your feet.
Never walk barefoot
Take care of your diabetes
Do not smoke
Come into our office for regular foot exams so that we can help keep an I on your feet to help prevent complications from diabetes.
Neuropathy
What is diabetic peripheral neuropathy?
Diabetic peripheral neuropathy is nerve damage caused by diabetes that affects the arms, hands, legs, and feet. This is not a condition that comes on overnight, as it generally develops slowly and worsens over time. Sensory nerves, motor nerves, and autonomic nerves are all affected by diabetic neuropathy. Symptoms of these three types of neuropathy include:
Numbness or tingling in the feet
Pain or discomfort in the feet or legs, including prickly, sharp pain or burning feet
Muscle weakness and loss of muscle tone in the feet and lower legs
Loss of balance
Changes in foot shape that can lead to areas of increased pressure
Dry feet
Cracked skin
How is diabetic peripheral neuropathy treated?
The most important thing to remember is that treatment for diabetic peripheral neuropathy revolves around controlling your blood sugar levels. Make sure you wear well-fitting shoes to avoid getting sores. Inspect your feet every day and should you notice any cuts, redness or blisters, it is imperative to come and see our specialists immediately. Medications may be prescribed to relieve symptoms of neuropathy such as burning or tingling.