Common Conditions For Orthotic Treatment
Tulsa Custom Orthotic Treatment Specialists
Orthotics are prescription, custom devices, designed to support, align and comfort the foot and lower extremities. Podiatrists use orthotics to treat conditions such as plantar fasciitis, bursitis, tendinitis, ulcers, and foot, ankle and heel pain. This helps to eliminate or decrease foot pain, improve function or delay the need for surgery or post-surgical pain relief. Custom orthotics are prescribed by your foot & ankle specialist and are not the same as a simple shoe insert or arch support.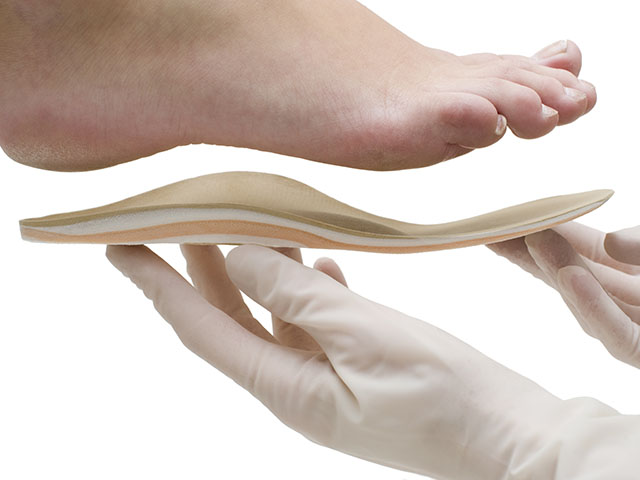 We understand that foot pain can be debilitating and cause unnecessary problems.
GET RELIEF TODAY
Get Relief with Custom Orthotics
People who experience back pain, hip pain, and/or foot pain often turn to orthotics to relieve their discomfort. Are [read more]
Dr. Mason is board certified in foot surgery as well as reconstructive rearfoot and ankle surgery. He is a [read more]
Many pharmacies and sporting goods stores sell insoles you can insert into your shoes to provide support and relieve [read more]
Subscribe to stay up-to-date on news and tips from us.
Plantar Fasciitis
What is plantar fasciitis?
Plantar Fasciitis is a condition that is caused by an inflammation of the band of tissue (the plantar fascia) that extends from the heel to the toes. When the fascia becomes irritated and inflamed, the result is heel pain. Symptoms of plantar fasciitis are:
Pain on the bottom of the heel
Pain in the arch of the foot
Pain that is usually worse upon standing
Pain that increases over a period of months
Swelling on the bottom of the heel
How is plantar fasciitis treated?
Diagnostic imaging studies may be used in correlation with your medical exam to distinguish the types of heel pain. Nonsurgical treatment includes having the patient start at home with stretching exercises, wearing shoes at all times, icing, limiting activities, shoe modifications, and medications. Should your pain persist, our staff will help you pad/tape/strap your foot, recommend orthotic devices to ensure extra comfort, provide injection therapy or even send you to physical therapy for further stretching exercises.
Pediatric Flat Foot
What is pediatric flat foot?
Flatfoot is a deformity that is common in both children and adults, but it occurs more often in children. Though it can be diagnosed at birth, it may not show up until years later. The symptoms of pediatric flatfoot you should be aware of are:
Pain, tenderness or cramping in the foot, leg, and knee
Outward tilting of the heel
Awkwardness or changes in walking
Difficulty with shoes
Reduced energy when participating in physical activities
Voluntary withdrawal from physical activities
How is pediatric flat foot treated?
Our surgical specialists will examine your child's foot and observe how the foot looks when they stand and sit. They will also observe the range of motion your child has. Should your child have pediatric flat foot, custom orthotic devices may be considered. Nonsurgical treatment options include activity modifications, orthotic devices, physical therapy, medications, and shoe modifications. Depending on the degree of deformity, surgery may be deemed necessary for your child by our surgical specialists.
Arch Pain
What is arch pain?
Pain that goes across the foot between the heel and the ball of the foot is known as arch pain. Arch pain is a common foot concern, and in most cases arch pain develops due to overuse, unsupportive shoes, weight gain or acute injury.
How is arch pain treated?
Arch pain is typically no cause for concern. However, if your pain is consistent we recommend coming into one of our offices and meeting with our team of surgical specialists. Arch pain can often be treated with shoe inserts, shoe adjustments (such as avoiding unsupportive footwear), rest, icing, and orthotics. In rare cases surgery may be deemed necessary.
Cavus Foot (High-Arched Foot)
What is Cavus Foot?
Cavus foot describes a condition in which the foot has an extremely high arch causing an excessive amount of pressure to be placed on the ball and heel of the foot when walking or standing. Cavus foot is something that can develop at any age and is often caused by a neurologic disorder such as cerebral palsy,  Charcot-Marie-Tooth disease, spina bifida, polio, muscular dystrophy or stroke. If Cavus foot is caused by a neurological disorder, is it like to get worse with time. Symptoms of Cavus Foot include:
Hammertoes or claw toes
Calluses on the ball, side or heel of the foot
Pain when standing or walking
An unstable foot due to heel tilting inward which can lead to ankle sprains
Foot drop, or weakness of the muscles of the foot that lead to the foot-dragging when a step is taken
How is Cavus Foot treated?
Nonsurgical options to treat Cavus Foot are custom orthotic devices, shoe modifications, and bracing. In the event that nonsurgical treatment does not help to relieve your pain and improve the stability of your foot, surgery may be deemed necessary. In cases where an underlying neurological problem exists, surgery may be needed again in the future due to the progression of this disorder.
Flat Foot
What is flatfoot?
Flatfoot is a deformity with diverse symptoms, that include a partial or total collapse of the arch. This deformity can cause the toes to drift, or point outward, and the ankle to appear to turn in. Flatfoot can eventually lead to arthritis of the foot and ankle joints. Symptoms of flatfoot include:
Foot Fatigue
Shin splints
Aching of the knee, hip and/or lower back
How is flatfoot treated?
In most cases, flatfoot does not cause pain and there is then no cause for concern. Should you have pain or discomfort, flatfoot treatment may include physical therapy or orthotics to help lesson discomfort.