Common Nerve Pain Conditions & Treatment
Tulsa Nerve Pain and Treatment Specialists
When you suffer from nerve pain, mobility is difficult. Damage to the nerves in your feet cause intense burning-pain, numbness and tingling, unusual sensations, and loss of balance. Nerve pain is brought on by reasons such as arthritis, trauma, pressure on the nerves, cancer treatment and diabetes. Individuals who suffer from foot nerve pain should avoid wearing tight fitting shoes and should regularly see a specialist in order to help manage pain and prevent worsening symptoms from occurring.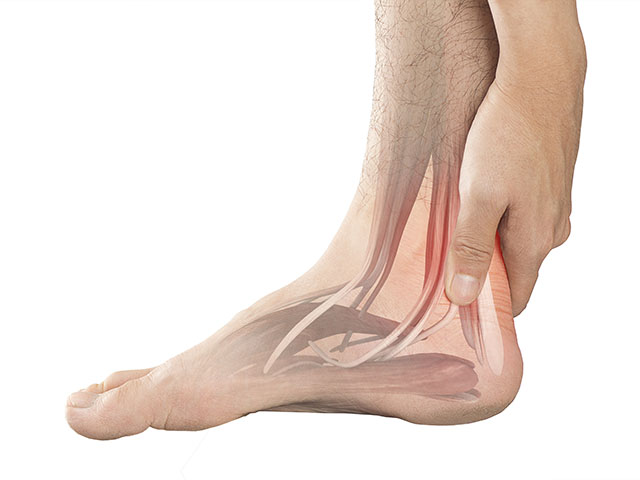 We understand that foot pain can be debilitating and cause unnecessary problems.
GET RELIEF TODAY
Get Relief from Nerve Pain
Many people experience heel pain after exercising. It can range from mild soreness to stabbing pain and is often [read more]
Children and young athletes who spend a lot of time on their feet often experience pain and discomfort. The [read more]
You're trying to get a good night's sleep, but foot pain is keeping you awake. Or maybe you are [read more]
Subscribe to stay up-to-date on news and tips from us.
Neuroma
What is a neuroma?
A neuroma is a thickening of nerve tissue that develops in various parts of the body, the most common being on the foot between the metatarsal bones. The thickening of the nerve is a result of compression and irritation of the nerve, and can eventually lead to permanent nerve damage. Symptoms of neuroma are:
Tingling, burning or numbness
Pain
A feeling that something is inside the ball of the foot
A feeling that there is something in the shoe or a sock is bunched up
How is neuroma treated?
The best time to see our surgical specialists is early in the development of symptoms as this will lessen the need for invasive treatments. Nonsurgical options include padding, icing, orthotic devices, activity modifications, shoe modifications, medications, and injection therapy. Surgery may be considered for patients who have not responded adequately to nonsurgical treatments. Regardless of whether you have undergone surgical or nonsurgical treatment, our team will recommend long-term measures to help keep your symptoms from returning.
Diabetic Peripheral Neuropathy
What is diabetic peripheral neuropathy?
Diabetic peripheral neuropathy is nerve damage caused by diabetes that affects the arms, hands, legs, and feet. This is not a condition that comes on overnight, as it generally develops slowly and worsens over time. Sensory nerves, motor nerves, and autonomic nerves are all affected by diabetic neuropathy. Symptoms of these three types of neuropathy include:
Numbness or tingling in the feet
Pain or discomfort in the feet or legs, including prickly, sharp pain or burning feet
Muscle weakness and loss of muscle tone in the feet and lower legs
Loss of balance
Changes in foot shape that can lead to areas of increased pressure
Dry feet
Cracked skin
How is diabetic peripheral neuropathy treated?
The most important thing to remember is that treatment for diabetic peripheral neuropathy revolves around controlling your blood sugar levels. Make sure you wear well-fitting shoes to avoid getting sores. Inspect your feet every day and should you notice any cuts, redness or blisters, it is imperative to come and see our specialists immediately. Medications may be prescribed to relieve symptoms of neuropathy such as burning or tingling.
Tarsal Tunnel Syndrome
What is tarsal tunnel syndrome?
The tarsal tunnel is a space found on the inside of the ankle next to the ankle bone. This tunnel is enclosed by a thick ligament that helps to protect and maintain its structure. Tarsal tunnel syndrome refers to compression or squeezing on the posterior tibial nerve that runs through the tarsal tunnel. Symptoms of tarsal tunnel syndrome are generally felt on the inside of the ankle, or on the bottom of the foot. Symptoms have been known to appear suddenly, but are more often brought on by overuse and include:
Tingling, burning or a sensation like an electrical shock
Numbness
Pain, including shooting pain
How is tarsal tunnel syndrome treated?
It is imperative that you seek early treatment for the symptoms of tarsal tunnel syndrome, as tarsal tunnel syndrome can result in permanent nerve damage. There are many non-surgical treatment options that are often used in combination to treat tarsal tunnel syndrome. These include rest, ice, oral medications such as anti-inflammatory drugs, immobilization, physical therapy, orthotic devices, bracing and shoes. Sometimes surgery is most effective in treating tarsal tunnel syndrome, and our team of surgical specialists will work with you to decide what is the best treatment option.
Morton's Neuroma
What is Morton's Neuroma?
Morton's Neuroma, also known as an Intermetatarsal Neuroma, is a thickening of the nerve tissue in the foot. Most often this type of neuroma appears between the third and fourth toes, but it can occur in other locations on the foot as well. Neuroma's are a result of compression and irritation of the nerve, which causes the nerve to enlarge. Symptoms of Morton's Neuroma include:
Tingling, burning or numbness
Pain
A feeling that something is inside the ball of the foot
A feeling that there is something in the shoe or a sock is bunched up
How is Morton's Neuroma treated?
The best time to see one of our specialists is early in the development of symptoms. When you are diagnosed early, you will lessen the need for more invasive treatments, helping you avoid surgery. Treatment for Morton's Neuroma varies based on the severity of it. Nonsurgical treatment options include padding, icing, orthotic devices, activity modifications, shoe modifications, medications, and injection therapy. Surgery may be considered for patients who do not respond adequately to the nonsurgical treatments listed above. Our specialists will determine the approach that is best for you based on your condition. Regardless of rather you needed a surgical treatment or a nonsurgical treatment, our specialists will recommend long-term measures to help keep your symptoms from returning