Common Conditions & Treatment for Heel Pain
Tulsa Heel Pain and Podiatry Specialists
Heel pain is one of the most common ailments treated by our specialists. Heel pain ranges from mild to disabling and is the result of faulty biomechanics, obesity or an injury that places too much stress on the heel bone and the tissues that attach to it. Pain may be noticed in the underside of your foot, or back of your heel. If pain and symptoms of inflammation including redness, swelling, heat or limited daily activities occur, contact our office to make an appointment with a specialist.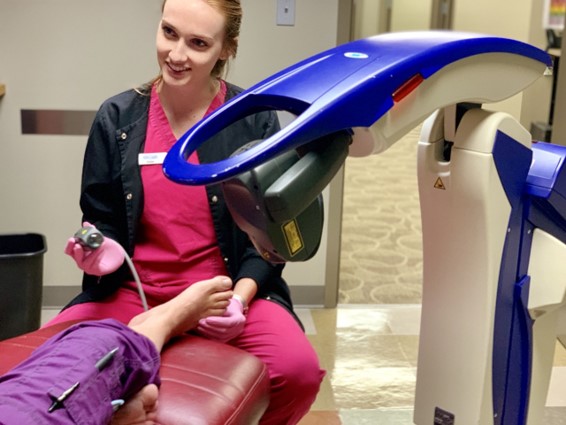 Heel pain treatment with our Extracorporeal Shock Wave Therapy (ESWT)
We understand that foot pain can be debilitating and cause unnecessary problems.
GET RELIEF TODAY
Get Relief from Heel Pain
Nerve damage is generally spoken of as a complication of diabetes but can also result from an injury. When [read more]
The foot is made up of 26 bones, 30 joints, and more than 100 muscles, tendons, and ligaments. These structures [read more]
Arthritis is a leading cause of disability in the United States that affects 24 percent of adults. In fact, [read more]
Subscribe to stay up-to-date on news and tips from us.
Plantar Fasciitis
What is plantar fasciitis?
Plantar Fasciitis is a condition that is caused by an inflammation of the band of tissue (the plantar fascia) that extends from the heel to the toes. When the fascia becomes irritated and inflamed, the result is heel pain. Symptoms of plantar fasciitis are:
Pain on the bottom of the heel
Pain in the arch of the foot
Pain that is usually worse upon standing
Pain that increases over a period of months
Swelling on the bottom of the heel
How is plantar fasciitis treated?
Diagnostic imaging studies may be used in correlation with your medical exam to distinguish the types of heel pain. Nonsurgical treatment includes having the patient start at home with stretching exercises, wearing shoes at all times, icing, limiting activities, shoe modifications, and medications. Should your pain persist, our staff will help you pad/tape/strap your foot, recommend orthotic devices to ensure extra comfort, provide injection therapy or even send you to physical therapy for further stretching exercises.
Peroneal Tendon Injuries
What is a peroneal tendon injury?
A tendon is a band of tissue that connects a muscle to a bone. There are two peroneal tendons in your foot. Their main function is to stabilize the foot and ankle, working to protect them from sprains. Peroneal tendon injuries most commonly occur in individuals who participate in sports or those who have a high arch. There are four main types of peroneal tendon injuries:
Tendonitis – an inflammation of the tendon
Acute Tears – caused by repetitive activity or trauma
Degenerative Tears (tendonosis) – the tendon becomes thin and eventually frays due to overstretching
Subluxation – one or both tendons have slipped out of their normal position.
How are peroneal tendon injuries treated?
Peroneal tendon injuries are sometimes misdiagnosed and may worsen without proper treatment. Due to this, getting into our office to meet with a surgical specialist in a timely manner is important. Nonsurgical treatment options include immobilization, medications, physical therapy and bracing. Sometimes our surgical specialists may need to repair the tendon or tendons in the foot through surgery.
Bursitis
What is Bursitis?
Bursa are fluid-filled sacs that act as a cushion between the bones. When the bursa becomes inflamed, it causes a painful condition that affects the joints and is known as bursitis. Symptoms of bursitis include redness, swelling, and pain.
How is bursitis treated?
Treatment for bursitis includes resting the affected area, ice therapy, anti-inflammatories, padding, and corticosteroid injections. If these treatment options fail to provide you with necessary relief, our surgical specialists might deem surgery to be needed.
Arch Pain
What is arch pain?
Pain that goes across the foot between the heel and the ball of the foot is known as arch pain. Arch pain is a common foot concern, and in most cases arch pain develops due to overuse, unsupportive shoes, weight gain or acute injury.
How is arch pain treated?
Arch pain is typically no cause for concern. However, if your pain is consistent we recommend coming into one of our offices and meeting with our team of surgical specialists. Arch pain can often be treated with shoe inserts, shoe adjustments (such as avoiding unsupportive footwear), rest, icing, and orthotics. In rare cases surgery may be deemed necessary.
Orthotics
What are orthotics?
Orthotics are custom medical devices that are prescribed by our surgical specialists. Orthotics differ from shoe inserts and arch supports in that they have two different purposes. They accommodate or offload a prominent area, and they help the foot function better during a bout with hypermobility.
Orthotics delay the need for surgery or they work to ease the pain following surgery. If you need a new orthotic, or you think orthotics might help the uncomfortable feeling you have, make an appointment to meet with one of our specialists. We would love to guide you through the process.
Bone Spurs
What are bone spurs?
A bone spur is an abnormal growth of extra bone that develops when the body tries to repair a problem. The foot is commonly where bone spurs develop, specifically in the heel, middle of the foot and toes. Bone spurs form when the body tries to repair damage by building extra bone. Bone spurs do not always cause symptoms, but symptoms for bone spurs one might have include:
Redness or swelling
A corn
Stiffness and loss of motion of the toe(s) or ankle(s)
Difficulty walking and functioning normally due to pain and loss of motion
How are bone spurs treated?
Most bone spurs in the foot can be treated conservatively through padding, footwear changes, heat and/or ice, weight loss, cortisone injections or a walking boot. In the event that conservative treatments are not effective and your bone spurs continue to progress, our surgical specialists may recommend surgery.