Common Conditions For Surgical Treatment
Tulsa Foot & Ankle Surgery Specialists
The feet and ankles support and bear impact of your body weight, which explains their ability to be easily injured. Foot and Ankle surgery can be deemed necessary for a variety of conditions or injuries, but it is considered a last resort treatment option by our team at MTFAS. If our specialists believe your condition can be treated non-invasively, we will exhaust those options before seeking surgery. Should you feel that you might need surgery, please call us today to schedule an appointment.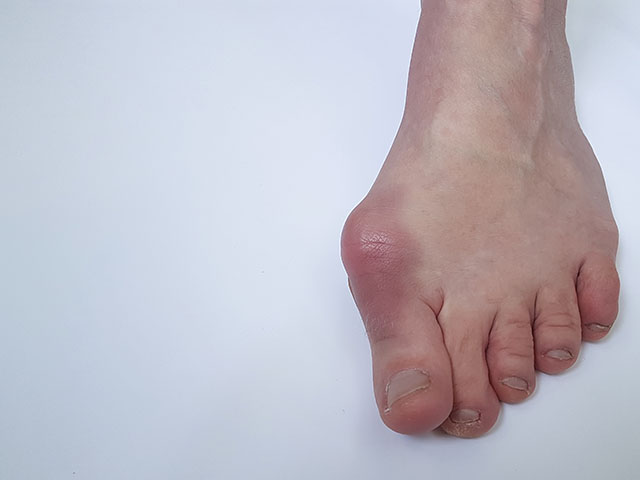 We understand that foot pain can be debilitating and cause unnecessary problems.
GET RELIEF TODAY
Get Relief with Surgical Treatment
You're trying to get a good night's sleep, but foot pain is keeping you awake. Or maybe you are [read more]
If you are suffering from bunions, no one will need to tell you how painful they can be, but [read more]
People who experience back pain, hip pain, and/or foot pain often turn to orthotics to relieve their discomfort. Are [read more]
Subscribe to stay up-to-date on news and tips from us.
Bunions
What is a bunion?
Bunions are a common foot deformity caused by the big tow leaning toward the second toe, causing the bones to be thrown out of alignment, thus producing the "bunion's bump." Many people may unnecessarily suffer from the pain of the bunions for years before seeking treatment. Since bunion's are a progressive disorder, over time the discomfort and characteristics of the bunion bump will become more prominent. Symptoms of discomfort are often aggravated when an individual is wearing shoes that crows their toes or spending long periods of time on your feet. Symptoms include:
Pain and Soreness on and around the bunion bump
Inflammation and Redness
A burning sensation
Possible Numbness
How are bunions treated?
Although bunions are often identified from prominent visibility, we may take x-rays to determine the degree of the deformity to ensure the best possible treatment plan. There are many non-surgical treatment options that we consider before planning surgery. These include making sure you are wearing the right kind of shoes, activity modifications to ensure you are giving your feet the rest they need, prescribing anti-inflammatory medication and icing the bunion to help reduce inflammation and pain, as well as custom orthotic devices to give your feet the support they need. After all non-surgical conditions are considered, if there has not been progress in the condition, we have many surgical specialists that will determine if surgery is the right treatment option for you. From there we will work with you to explain the surgical technique and recovery process so we can help reduce the pain and deformity the bunion has caused.
Achilles Tendon Rupture
What is an Achilles tendon rupture?
The Achilles tendon is a band of tissue that runs down the back of the lower leg, connecting the calf muscle to the heel bone. A complete or partial tear of this tendon occurs when the tendon is stretched beyond capacity. Symptoms of an Achilles tendon rupture are:
Sudden pain in the back of the ankle or calf
A popping or snapping sensation
Swelling on the back of the leg between the hell and the calf
Difficulty walking and trouble rising on the toes
How is an Achilles tendon rupture treated?
The process for diagnosing an Achilles tendon rupture is straightforward. We will examine the foot and ankle, feeling for a defect in the tendon that might suggest a tear. Though it is rare, in some cases the surgeon may need to order further testing such as an MRI. We offer both surgical and nonsurgical treatment options for an Achilles tendon rupture. Nonsurgical options are generally selected for minor ruptures but have a higher rate of complete rupture long-term. With a minor rupture nonsurgical treatment involves using a cast, walking boot or brace to restrict motion. It is important to note that surgery offers important potential benefits for patients such as improving muscle function and movement of the ankle. Various surgical techniques are available to repair the rupture, and our surgical specialists will work with you to determine your best treatment option.
Chronic Ankle Instability
What is chronic ankle instability?
Chronic ankle instability is a condition that is characterized by the lateral (outer) side of the ankle consistently giving way. Generally, this condition develops after repeated sprained ankles.
People with chronic ankle instability often complain of:
A repeated turning of the ankle
Persistent discomfort and swelling
Pain or tenderness
The ankle feeling wobbly or unstable
How is chronic ankle instability treated?
Treatment for chronic ankle instability is based on the results of our examination and tests. Nonsurgical options include physical therapy, bracing and medications. In some cases, our surgical experts may recommend surgery due to the degree of instability or lack of response to nonsurgical approaches. Surgery for chronic ankle instability requires repair or reconstruction of the damaged ligament(s). Should surgery be necessary, our surgical staff will work hand-in-hand with you to explain the surgical technique and recovery process during your exam.
Hammertoes
What is a hammertoe?
Hammertoe is a deformity in one or both joints of the toes. This deformity causes abnormal bending and due to this pressure is placed on the toe(s) when wearing shoes, causing problems to develop. If left untreated, these problems get worse overtime. Symptoms of hammertoes include:
Pain or irritation of the affected tow when wearing shoes
Corns and calluses on the toe, between two toes, or on the ball of the foot.
Inflammation, redness or a burning sensation
Contracture of the toe
In severe cases, open sores may form.
How are hammertoes treated?
Due to the progressive nature of hammertoes, they should receive early attention as they never get better without intervention. There are a variety of treatment options for hammertoes. The treatment our specialists select for you depends on the severity of your deformity.
Nonsurgical measures include:
Padding corns and calluses
Changes in shoe wear
Orthotic devices
Medications
In some cases hammertoe may become more rigid and painful, or cause open sores to develop. IN these instances our surgical specialists may deem surgery to be your best option.
Ingrown Toenail
What is an ingrown toenail?
An ingrown toenail is a heavily curved nail, causing the nail to grow into the skin along the nail border. This irritates the skin and leads to pain, redness, swelling, and warmth of the toe. Should the ingrown nail cause a break in the skin, bacteria can then enter the skin leading to an infection.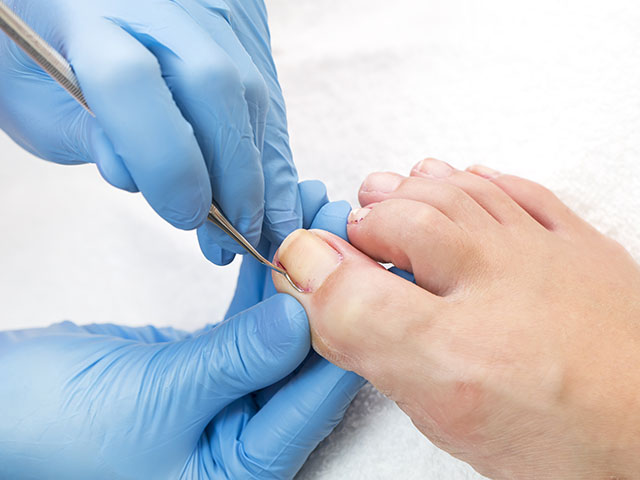 How is an ingrown toenail treated?
After examining the toe, our team will select the treatment that is best suited for you. Sometimes, a minor surgical procedure is done in the office. This will ease the pain, as we remove a section of the offending nails border. Many people experience little pain after surgery and may immediately resume normal activity.
Neuroma
What is a neuroma?
A neuroma is a thickening of nerve tissue that develops in various parts of the body, the most common being on the foot between the metatarsal bones. The thickening of the nerve is a result of compression and irritation of the nerve, and can eventually lead to permanent nerve damage. Symptoms of neuroma are:
Tingling, burning or numbness
Pain
A feeling that something is inside the ball of the foot
A feeling that there is something in the shoe or a sock is bunched up
How is neuroma treated?
The best time to see our surgical specialists is early in the development of symptoms as this will lessen the need for invasive treatments. Nonsurgical options include padding, icing, orthotic devices, activity modifications, shoe modifications, medications, and injection therapy. Surgery may be considered for patients who have not responded adequately to nonsurgical treatments. Regardless of whether you have undergone surgical or nonsurgical treatment, our team will recommend long-term measures to help keep your symptoms from returning.
Plantar Fasciitis
What is plantar fasciitis?
Plantar Fasciitis is a condition that is caused by an inflammation of the band of tissue (the plantar fascia) that extends from the heel to the toes. When the fascia becomes irritated and inflamed, the result is heel pain. Symptoms of plantar fasciitis are:
Pain on the bottom of the heel
Pain in the arch of the foot
Pain that is usually worse upon standing
Pain that increases over a period of months
Swelling on the bottom of the heel
How is plantar fasciitis treated?
Diagnostic imaging studies may be used in correlation with your medical exam to distinguish the types of heel pain. Nonsurgical treatment includes having the patient start at home with stretching exercises, wearing shoes at all times, icing, limiting activities, shoe modifications, and medications. Should your pain persist, our staff will help you pad/tape/strap your foot, recommend orthotic devices to ensure extra comfort, provide injection therapy or even send you to physical therapy for further stretching exercises.
Ganglion Cyst
What is a ganglion cyst?
A ganglion cyst is a sac filled with fluid that originates from a tendon sheath or joint capsule. The term "ganglion" means knot and is used to describe the knot-like mass or lump that forms below the surface of the skin. Symptoms of a ganglion cyst are:
A noticeable lump
Tingling or burning, if the cyst is touching a nerve
Dull pain or ache
Difficulty wearing shoes due to irritation between the lump and the shoe.
How is a ganglion cyst treated?
One of our skilled surgeons will perform a thorough examination of your foot. The lump will be pressed in different ways and should move freely under the skin. Sometimes our team will remove a small amount of fluid from the cyst for evaluation. Treatment varies based on your pain in association with the cyst. If there is no pain and the cyst does not interfere with walking, our team may choose to monitor your cyst closely and suggest shoe modifications that may help provide you with comfort. At times, our team may choose to drain the fluid in house and then inject a steroid medication into the mass. If these treatment options are not appropriate for your cyst, the cyst may be surgically removed.
Bunionette
What is a bunionette?
A bunionette, also called Tailor's bunion, describes the prominence of the fifth metatarsal bone at the base of the little toe. A bunionette is caused by an inherited faulty mechanical structure of the foot. This rare structure causes the fifth metatarsal bone to protrude outward, while the toe moves inward, creating a bump on the outside of the foot that becomes irritated when a shoe presses against it.
Symptoms include:
How is a bunionette treated?
Treatment for a bunionette begins with nonsurgical therapies including shoe modifications, padding, oral medications, injection therapy, and orthotic devices. Our surgical specialists may consider surgery if your pain continues despite previously used nonsurgical therapy approaches.
Surgical Revisions
What are surgical revisions?
At MTFAS we are proud of our doctors' expertise in revisions of deformed and poor surgical outcomes, limb salvage revisions, and traumatic injury revision. Sometimes, treatment does not result in the desired outcome. When patients have continued pain and discomfort, surgical revisions may be deemed necessary by our surgical specialists.
Reconstructive Surgeries
What are reconstructive surgeries?
Foot reconstruction is a surgical procedure performed to correct the structures of the foot and restore functionality that has been lost due to injury or illness. Ideally, any foot reconstruction is done to improve appearance and function of the foot or ankle so that patients can maintain their quality of life.