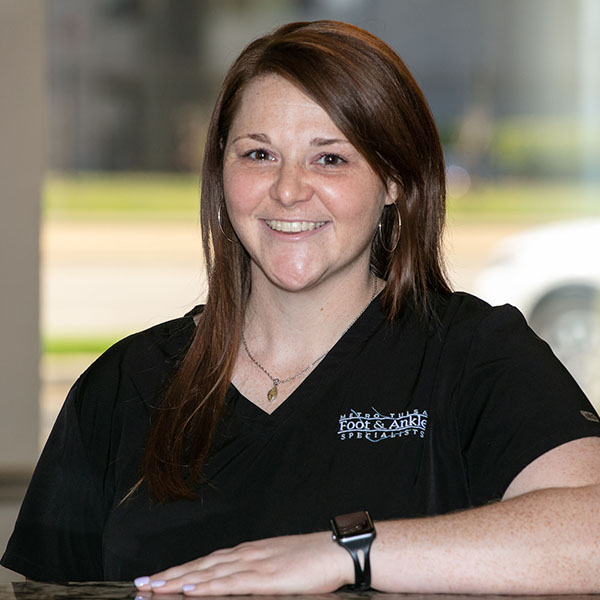 Q: Why do you love working at Metro Tulsa Foot & Ankle Specialists?
A: Since I can remember, I always wanted to be an orthopedic surgeon. There was very little variance in that aspiration. I graduated with my BS in Medical/Molecular Biology, took the MCAT twice. I decided to pursue my Master's in Healthcare Administration, because I just knew I would not want to do that the rest of my life, and a master's degree would help me get into medical school.
Imagine my surprise when accepting a job at a podiatry clinic changed my life.
I was working as a surgical tech after graduating with my bachelor's degree. It was not a good fit for me, I wanted something else. So, I applied for a position on indeed. I did not realize it was for a staffing agency, but I went to the interview, and they told me they had a podiatry clinic looking for someone. I knew podiatrist were foot doctors and decided I would be willing to interview at the clinic, so I did.
I remember that interview still today. I did not know then that my entire plan and goals would change. What I thought I wanted more than anything changed. I have watched and been a part of our company flourishing. I work for an amazing group of physicians that motivate me constantly and encourage me every step of the way. They have invested in me daily and have helped me realize I actually love healthcare administration. So much so, that I am pursuing my Doctor of Healthcare Administration.
Never did I expect to be where I am today, pursuing a doctorate in something that would not result in MD or DO after my name. The culture here is second to none. I started at the front desk, then transitioned to marketing and inventory management, and ultimately to the practice manager position. Positions are filled from within first, and then we look outside if that is not an option. Our doctors are some of the nicest I have ever met.
Finding an environment that is supportive, innovative, welcoming, and growing is exciting and rare to find. I have found the place to plant my roots and grow, and I cannot wait to see all the things we accomplish in the future.