Foot or ankle pain affects 77% of Americans, and many of the conditions that cause foot pain end up restricting one's lifestyle when untreated. Standard treatments, like the R.I.C.E. treatment (rest, ice, compress, elevate) accompanied by an anti-inflammatory medication can temporarily relieve the pain. Though, conditions like plantar fasciitis, bursitis, Achilles tendonitis, and general heel pain, can become exhausting to manage.
What is EPAT Therapy?
With advancements in shock wave therapy technology, patients can receive long-term relief with EPAT therapy. Extracorporeal Pulse Activation Therapy (EPAT) is a highly effective non-invasive treatment for conditions related to bone and soft tissue disorders. This FDA-approved therapy uses acoustic pressure waves to increase blood circulation to the affected area, which triggers the body's response to mitigate the injury by reducing inflammation and encouraging the growth of new blood vessels that boost support for healing cells as they regenerate damaged tissue.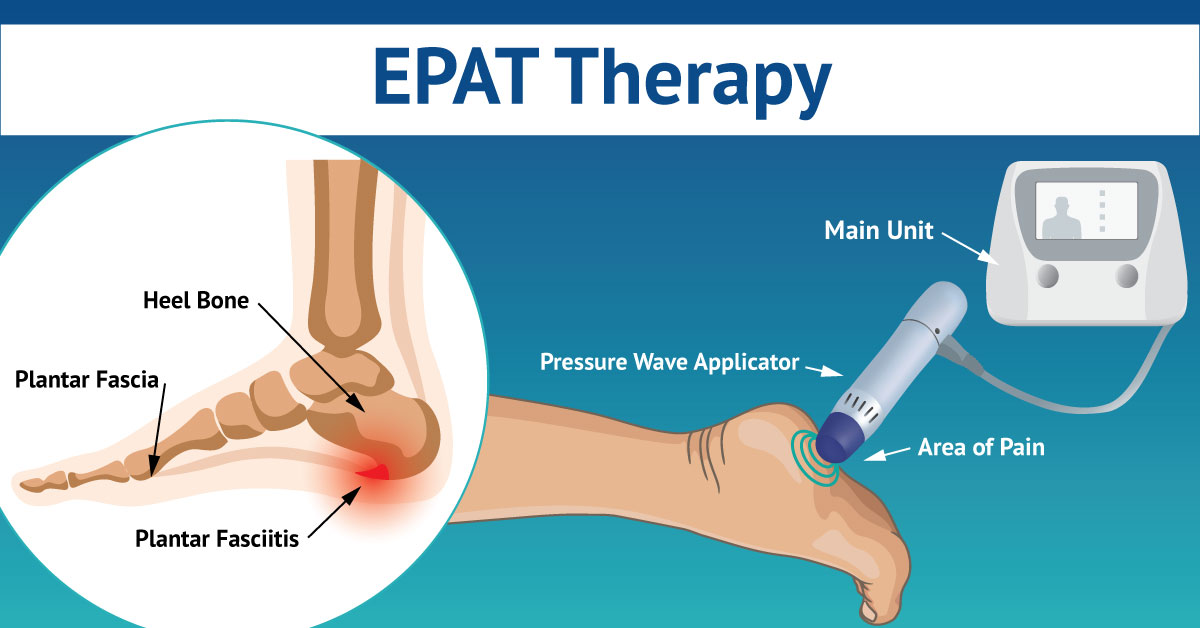 What to expect from EPAT Therapy?
EPAT therapy treatments are performed in-house and typically only take 15 minutes. When a patient comes in for treatment, a gel will be applied to the EPAT hand-held applicator. From there is applicator will be placed on the target area and moved in circular motions while the applicator sends pressure waves directly to the affected area to encourage healing. This treatment is ideal for individuals who suffer from acute foot or ankle pain as well as chronic injuries with alternative failed treatments.  Depending on the severity of the condition causing foot or ankle pain, patients can expect to have 2-5 EPAT therapy sessions. Individuals that receive EPAT, or similar shock wave therapy, showed significant relief after the first therapy session and overall pain relief experienced a peak 4-week after their final therapy session. Some patients experience slight redness around the treatment area or mild discomfort is possible with EPAT treatment, but typically resolves within a few days.
EPAT Therapy for Foot and Ankle Conditions
While conditions that cause foot pain are widespread, therapies to repair musculoskeletal damage are limited. With our new EPAT Therapy machine, our physicians can effectively treat a variety of conditions, so our patients can experience pain relief and increase their quality of life. This therapy can be provided for patients as a quick in-office treatment for many conditions, including but not limited to:
Plantar Fasciitis
Bone spurs
Bursitis
Achilles tendonitis
Peroneal tendon injury
Plantar plate injuries
Tarsal tunnel
Sports injuries
Sprains
Out of the 77% of Americans who suffer from foot pain, only one-third seek professional care from a podiatrist. EPAT Therapy will allow Metro Tulsa Foot & Ankle physicians to provide non-invasive treatment possibilities that eliminate foot and ankle pain, and transform what foot health means, so our patients can live a life of wellness without the pain. Schedule an appointment today.
Subscribe to stay up-to-date on news and tips from us.